Got out this afternoon for a short wade on the Fox. Water was at 1050 cfs, it was very stained and just before a thunderstorm. The river was over waist deep today where in previous trips it was only mid thigh. (I should start mentioning that in my posts since I use them as references for future trips).
I went to a favorite hole that produced the past two trips, under a footbridge. When I finished up fishing the spot previously, I waded thru where I had fished in order to get an idea of how deep the some of the spots were where I caught fish. I went straight to a good spot and on my second cast of the day, BAM!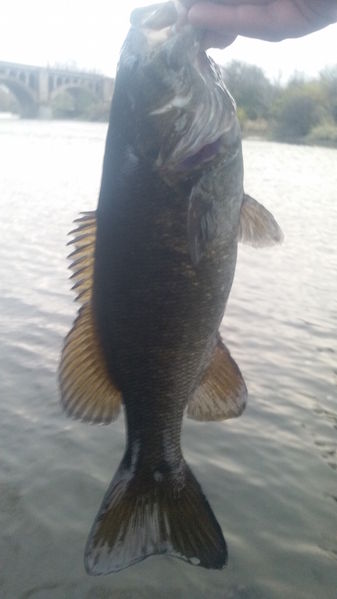 Not huge, measured 14", but a great start to my wade and like anyone, I assumed that it was going to be a blockbuster of a trip. Not so much. Fished until dark and only had one more fish, a 10"er. In retrospect, with the flow as strong as it was I should've been throwing something to get closer to the bottom than a mepps spinner and rattle trap. Fish were likely holding close to the bottom.