Took the new boat out in the middle of a crazy busy weekend. Didn't get the outboard assembled and tested, ended up buying bait suckers and the last minute and setting out with just the trolling motor.
Got a real nice channel cat on the first bait in the water at the first spot. No picture, it was so unruly in the boat I was afraid I'd lose my camera trying to get a photo. Maybe close to 10# and real nasty.
Later, a little after midnight, I got a nice pop and load up hooking up with my first flathead of the year, about 29". Really strong fish, there was no doubt it was a healthy one. Got a couple pics and released it and then called it a night.
When I got back to the launch, there was some families with grills cooking food, maybe a couple dozen people. Must have been good eats, the smell was amazing!
Up in the "flathead loft" checking measurements...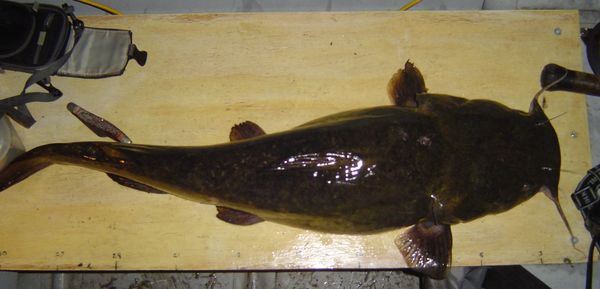 Not a monster, but a 29" flathead on the Fox is definitely a quality fish. Nice way to break in the new ride!