Had a great afternoon on the river today. Got wet about 4pm, first fish at 5pm after losing something hefty. Thought I was snagged, then started feeling the fight, probably a channel cat, but got off. That started a trend for the day. I didn't count, but I'm certain I hooked and played before losing at least as many as I brought to hand, frustrating.
First fish was a 13", followed by a bruiser I got a real good look at before it shook off at my feet. I'm confident it would've been my best fish of the year, oh well!
Waded to a downed tree pile and in three consecutive casts, hooked up with three smallies all about the same size. I landed the third, 14".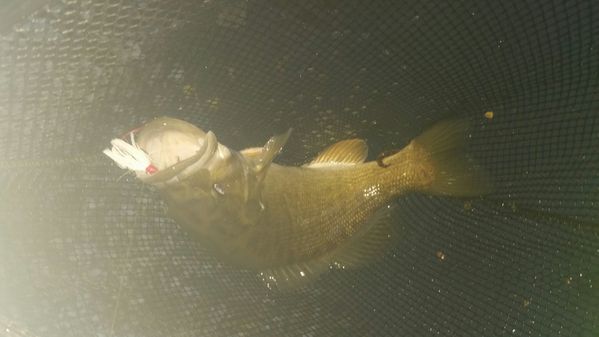 Making my way back at sundown, I hooked into one last fish, felt really good, but it snagged me into a burlap bag floating downstream. Trying to unsnag my lure from the fish from the bag, I ended up snapping a foot off my favorite light action BPS rod, damn!
Oh well, a good day out, 50 degrees and sunny. Landed eight fish, mostly in the 10"-12" range, but hey, I'll take 'em!