Hit up the river just after sun up on Saturday 07/25 for about four hours. I got bit on my first cast and lost a fish in the 16"-17" range on a jump and thought "omg here we go." Well, I'm happy to say the bites came early and often. KVD 1.0 in chartreuse/black back was mowing 'em down on this day. Had six bites out of the same hole I lost the first fish from, landing a couple of 14" smallies. And it never really stopped, fish were everywhere they should have been. And, of course, channel cats on Gulp minnows, my most consistent pattern the past two years.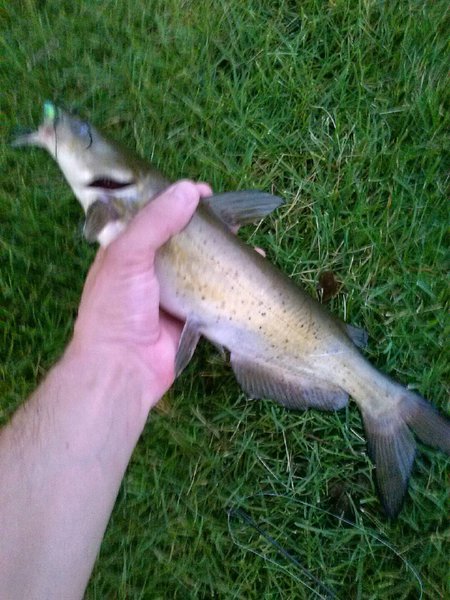 I tried the river briefly the prior weekend but fell on a rock in about the first 20 minutes I was there and smashed my knee. Swelling was immediate so I abandoned wading in favor of fishing downtown Naperville where I hobbled around long enough to get a six pack of decent smallmouth. Only reason I bring it up is because I was relegated to shore fishing on this Saturday because of the injury and walked the shoreline in muck boots with my knee wrapped and braced. This would actually work to my benefit, oddly enough. As it is, I'm not a big fan of advertising spots in my pics but I won't usually go to such lengths to disguise where I was fishing. Keep scrolling and you'll know why I made the extra effort to protect where I was.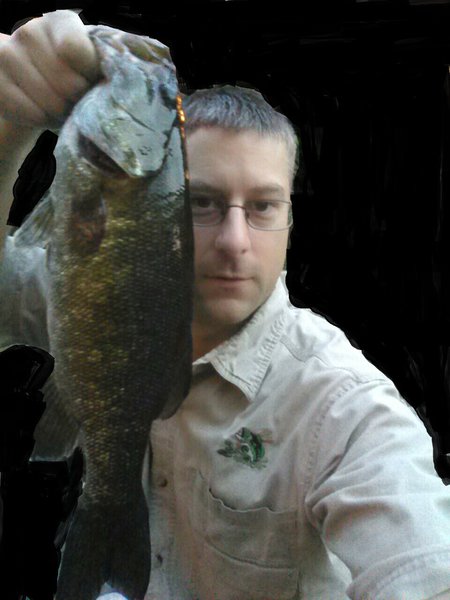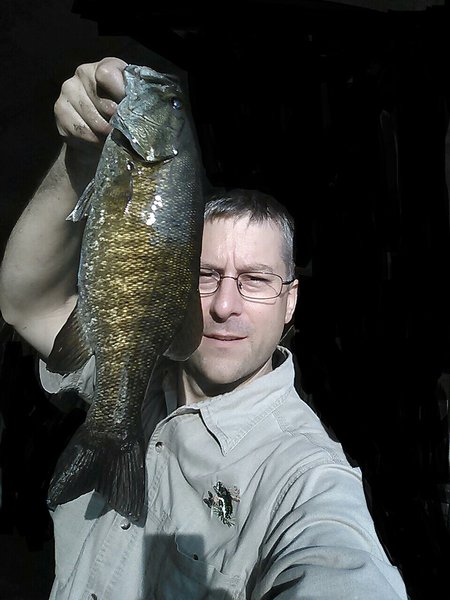 Started casting the 1.0 in a good looking eddy that was strangely quiet given the action I'd seen to this point. I was standing in about 10" of water when she hit, right at my feet. Because of the musky I lost a few weeks back, I went to BPS and bought a larger net, cut the handle down to about two feet, and now carry it along with me when fishing. Cost me $26 and paid for itself on this cast. Just as I netted her, she snapped my line. Would've never landed her without the net and wouldn't have been fishing this spot had I been able to wade.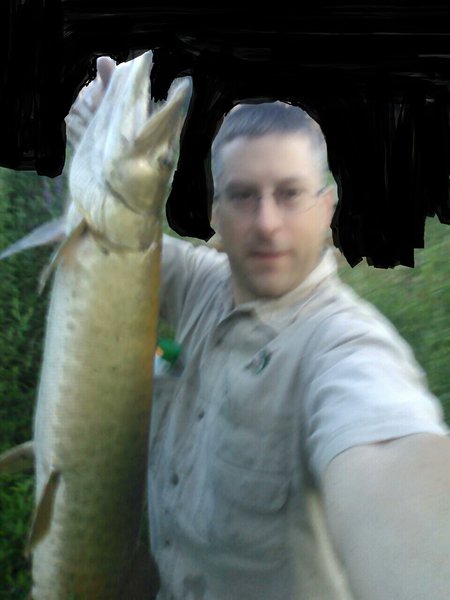 22 smallies with several being 14"+, 3 channel cats up to 17", and the muskie being in the 37"+ range. Not ready to say happy days are back again at the Fox but am certainly encouraged. Decided to be cautious with the pics since these fish are few and precious commodities.