With our break starting yesterday evening, my brother and I decided to make the trip back home early this morning and hit trail creek on the way back home. With high hopes of picking up a few steelhead on the way home, our optimism ended after arriving to unfovorable water levels and a lack of fish in our go to holes. We gave it a shot anyway though, but after a few hours of no success, we decided to finish our ride back home.
I've been chomping at the bit to get back to the Dupage ever since I left for school in August and from reading all of jmdog's posts. After a 5 am start time this morning, it took some convincing to get my brother to stop at the river before arriving home, but eventually he gave in after I reminded him about the last walleye I caught about a year from today.
While the walleyes eluded us today, my holes on the West Branch still produced some quality fish for us. My brother and I both used a 3-inch twister tail, I started with chartreuse and he started with white. Right off the bat, we started catching fish, eventually leading me to my best smallmouth of the year out of the Dupage.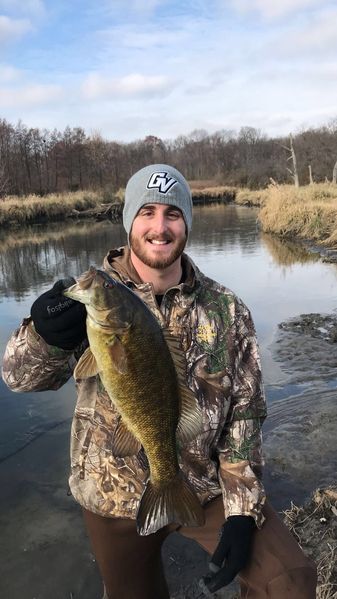 We fished for about an hour and a half, and finished with 9 smallys all around this class size.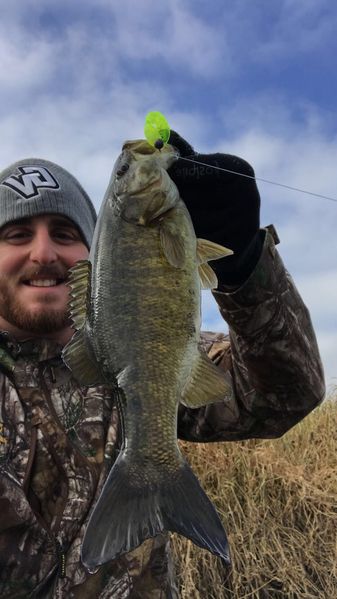 Mid way through our trip, my smallmouth action was put on hold with this brute that took me on a ride with my 6 pound test.
Great way to start off the break back home, I'll definitely be hitting the Dupage a few more times before I leave Sunday.