Last weekend was a weekend for a lot of firsts. Sunday was my first sit in a stand for the 2014-2015 deer season, it was the first time anyone sat in this specific stand, it was the first deer ever taken on my girlfriend's parents land, it was my first antlered Michigan buck, my first pass through shot, and it was the first time I've tagged out on my first morning in a season!
First of all, I'd like to thank my girlfriend Jen's parents, Lew and Jane, for giving me the opportunity to hunt their land (as well as date their daughter) and have one of the best hunting experiences of my life. Lew had a ladder stand still in the box sitting in the garage and I was able to convince him we should put it together and set it up Saturday afternoon. After putting the stand together in the garage, Lew and I walked the property to determine a good spot to put it in. I've hunted their land 3 times before late in the season but had always sat on the ground. We chose a spot that offered a different look from my ground spot in the back corner of a cleared field of pines where, to me, it looked like a bunch of trails came together. I also brought Lew and Jane a new trail cam for them to have some fun with and we put it up near the stand to see what kind of deer were using the trails.
Lew and I setting the stand: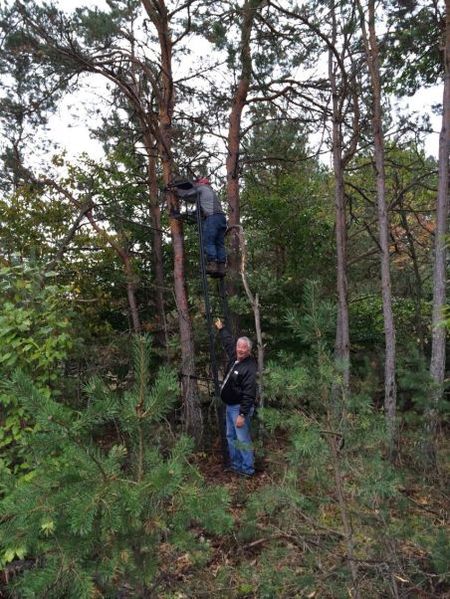 View of the stand (its on the left):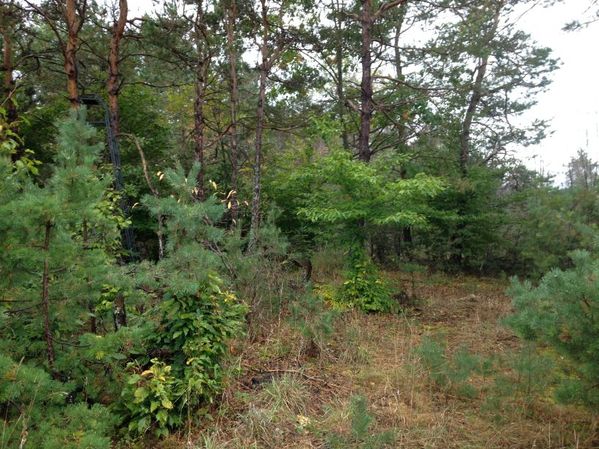 View of the corner from the stand: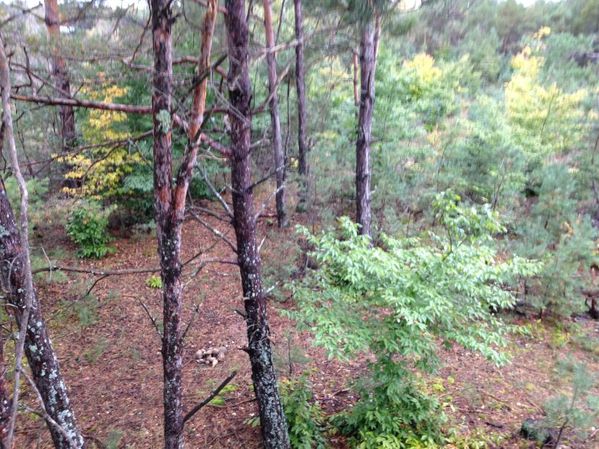 View of the cleared pine field from the stand: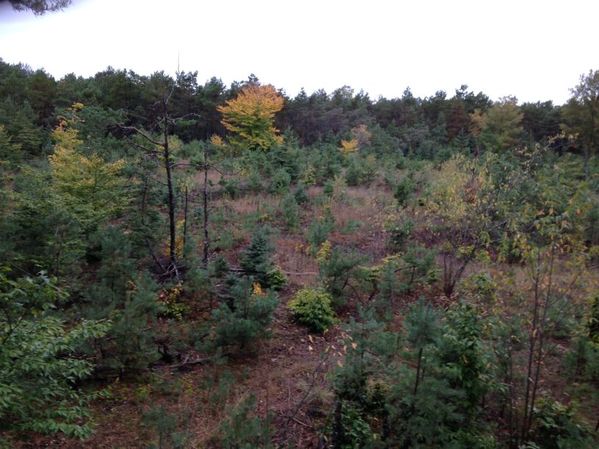 Definitely different scenery compared to what I'm used to hunting in back in Indiana! The lack of beans and corn still seems odd to me.
Got the stand up about 4:30 PM Saturday, drove to the nearest license dealer and purchased my non-resident license at 6:30 PM. I wasn't 100% sure I'd even try to hunt that weekend but, since the stand was up, I didn't see myself sleeping in Sunday morning. By 6:00 AM Sunday morning, I was out the back door and on my way to the stand. Climbed up in the stand and had everything ready to go by 6:30 with shooting time 45 minutes away.
Saturday evening into the night it rained steadily. No rain Sunday morning but everything was still pretty wet. Walking out to the stand, it was still cloudy so it was pitch black without any stars or moon light. My assumption was due to the rain over night, the deer would be moving at first light and I would be ready for them.
Just before shooting light, I had an owl fly in and land 5' away from me at eye level (scarring the crap out of me in the process) and had a chipmunk that was clearly upset I was in his tree. Ah, great being out in the woods and back up in a stand! Not long after, I saw the first deer of the morning cut the corner I was in and cross behind some trees. Never got a great look at it but I could definitely tell it was a deer.
As soon as it starts getting light enough to see, I look to the far edge of the cleared pine field and see antlers flash over the brush. I watch that area until I see him step out from behind a pine tree and just as quickly he disappears again. Also caught a glimpse of another deer in that same area before it also walked out of sight. 45 minutes after shooting light on my first day in the stand for the season and I've already seen 3 deer!
40 minutes later, I look up and see 2 does making their way down the tree line straight at me. "Ok, game time!" I thought. They come all the way across the field right towards me. When they're 30 yards away and behind some brush, I stand up and draw back. I'm looking for a lane to get a shot off and they have to come about 10 more yards to get into it. However, the lead doe only came 7 yards, stopping short of my corner, cut across the property line and into some thicker brush where her and her partner slipped out of sight. Ok, now I even had a close encounter and got to draw back. Good stuff. I made a mental note to cut down 2 branches that would have given me a shot at the path they were on for future sits and just couldn't believe how great the morning was going so far.
About 20 minutes later, I look back in the direction I originally saw the buck in and there he is in a little opening in the brush between some pines. Now I can get a decent look at him. Compared to the does, he definitely had a bigger body and he looked to me like he was at least a 6 pointer. Up there in Wexford County, they have a 3-points-on-one side Antler Point Restriction. I had already told myself that as long as I see a buck with 3+ points on one side, I was going to fill my tag if I could. When I first saw him he was about 130-150 yards away but he was slowly making his way right towards my corner. As he gets closer, I probably counted his points at least 10 times to make sure he was legal. Slowly he makes his way down the hill and across the field towards me. In my mind, I was still debating if he was a shooter or not, but my body clearly had already made it's decision. At 25 yards away he puts his head down behind a small pine tree and I instinctively stand up and draw back. He's still cornered to me, so I hold and hold...and hold as he makes his way further into my corner. When he gets 10 yards away, he's broadside but behind thick brush. I don't know how long I had been holding my draw back but it felt like forever. Now he just needs to walk 10 more feet to my left to get into a shot opening......but I can feel my arms starting to give. With the deer solidly behind heavy brush only 10 yards away, I had to give my arms a break and I let my draw down. I laugh thinking that he's right in the view of the trail cam we put up the day before and no doubt getting pics of this deer. If I mess this up I'll probably never hear the end of it!
He starts walking towards my shooting lane and I draw back again (love how incredibly quiet the draw cycle is on my Bow Madness!) but of course he takes his time and makes me wait. After what seemed like another 10 minutes, he takes that last step and I have an opening at his vitals. I put my 20 yard pin at the white of his belly behind the shoulder knowing that it should hit about 3" high at this close distance and pulled the trigger on my release. Didn't get the loud THWACK I'm used to hearing, but saw the arrow bury into the lung area. The buck turned and sprinted away with it's tail down and hind quarters low to the ground roughly in the direction from which he came until he went out of sight. I look down at where I shot him and see my arrow sitting there but can't tell if the blades opened or if it was covered in blood.
Now the shaking begins as the adrenaline leaves my body. I'm shaking so bad that I can't text so I called my girlfriend to let her know I just arrowed a buck. She and her parents wanted to get in on the experience, so I told them to come out and meet me in the stand in an hour. When I finally stop shaking and can compose myself (about 15-20 minutes later), I get together all my gear and climb down the stand to get a look at the arrow and the blood trail. What I find is exactly what I was hoping for!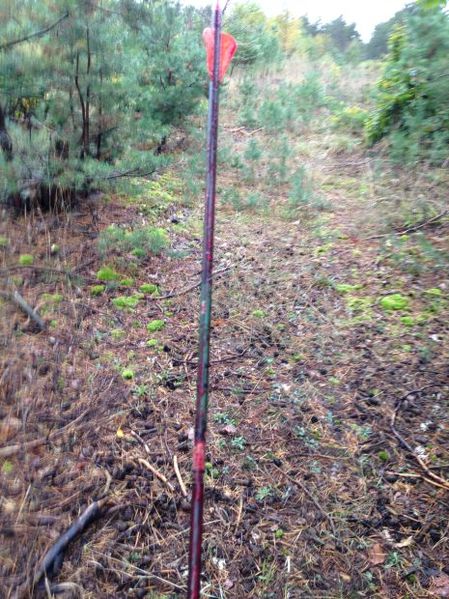 Good blood on the arrow, the blades were fully deployed and, from where I shot him, I could see a good blood trail on the wet ground in the direction he ran. About 40 minutes later, Jen and her parents meet me out in the field and I tell them about the incredible morning I had. We take a look at where I shot the buck and begin following the blood trail.
Jane, Lew and I on the blood trail: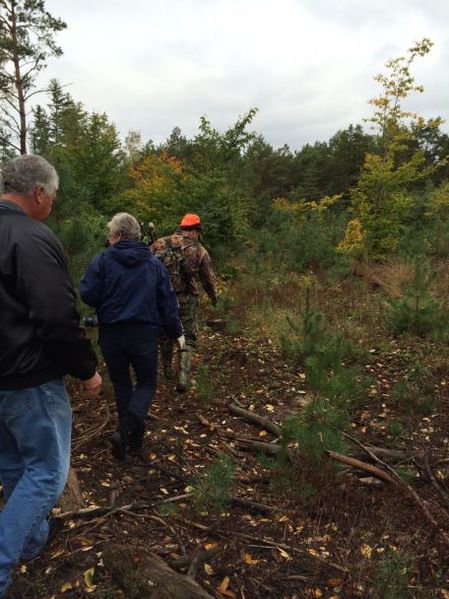 While the trail was a bit spotty on the wet ground at the beginning where the buck was sprinting, once he entered back into the woods we started seeing better piles of blood. Now about 130 yards from where I shot him, I look up ahead and see a brown butt sticking up in the air. Dead deer!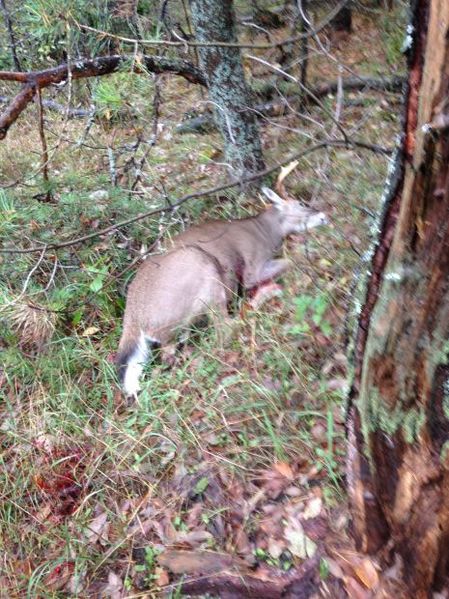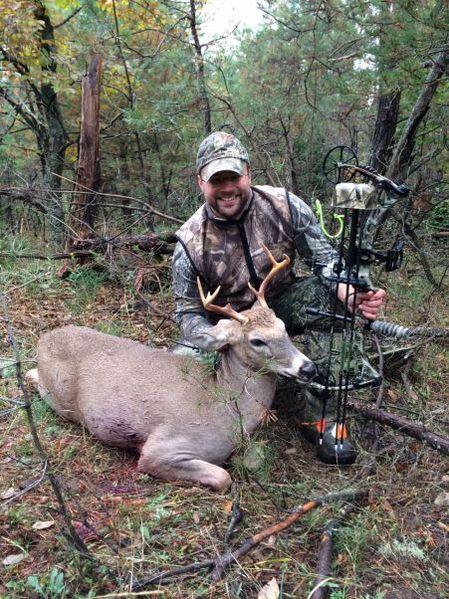 Lew helped me field dress the buck as Jane and Jen looked on and the 3 of them got to see their first field dressing. Afterwards, Lew and I dragged the deer out of the woods and back into the opening. As a special bonus, Lew then went back and got in the tractor to help carry my deer back to the house!
Lew coming with the tractor: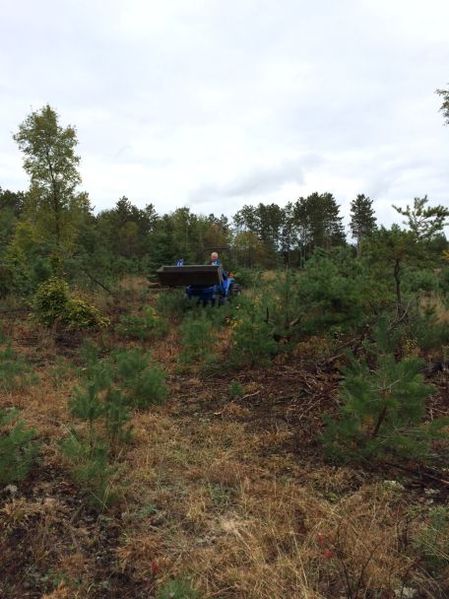 You can tell how much I was enjoying this:
We got the deer back to the house where I cut the tenderloins out and was greeted with a celebratory cold beer and cigar: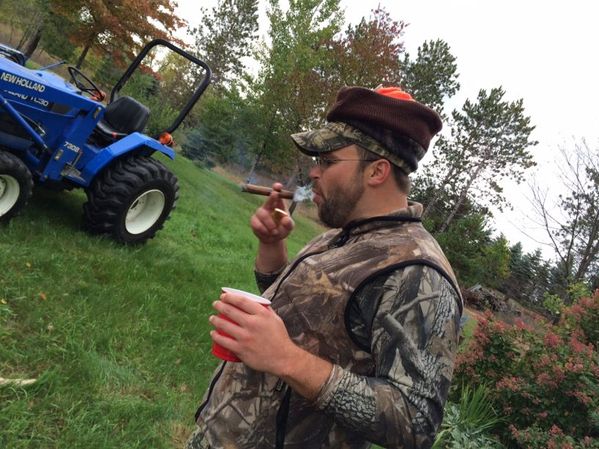 Jen and I made a quick lunch with the heart and tenderloins so we could share the ridiculously fresh meal with her parents before heading back to Chicago.
What an incredible first day in the stand! Thanks again to Jane & Lew (and also Jen!) for allowing me to hunt on their land, their help tracking the deer, their tractor for getting the deer out of the woods, and everything else that made for such an excellent weekend! Now it's back to hunting Indiana deer this weekend!
Oh, and I say 1st "antlered" buck because I shot a buck up in Michigan on one of Lew's buddy's land back in 2012 that had already dropped it's antlers.