OK so its time to buy a brand new boat
Usally for most blue collar working folks its a huge decision. Just when you think you figured it out things change .
Most generally its a couple year decision process and i have to tell you A LOT CAN CHANGE IN ONE YEAR LET ALONE A COUPLE YEARS
A lot of my customers have been budgetting for a new boat some as many as five years come in to order their New Hewescraft and i have to tell them "I DONT SELL HEWESCRAFT BOATS ANY MORE "
NOW WHAT ?
Well its like this! Hewescraft for a lot of good reasons got more expensive and not alot better .
When in the show room next to a Thunder jet customers chose The thunder jet . I had to close out the last 3 hewes crafts i had in stock @ my invoice price i pulled the invoice out and showed customers this is exactly what i paid for them .
We have had our best month ever with Thunder jet boats in our 62 year history of being in business. Will we be a thunder jet dealer forever ? Probably not Why ? Because there is only one thing for sure THINGS WILL CHANGE ! IF WE HAVE ANY SECRET FOR BEING IN BUSINESS FOR 62 YEARS IT IS "WE PAY STRICT ATTENTION TO CHANGE AND CHANGING TRENDS "
BRINGING OUR CUSTOMERS THE BEST IN QUALITY AND BEST BANG FOR THE BUCK IN BOTH PRODUCTS AND SERVICES .
WOULD I BUY A NEW HEWESCRAFT TODAY NO I WOULD NOT! WOULD THAT QUESTION BE ANSWERED DIFFERENTYLY A COUPLE YEARS AGO? YES OF COURSE
come see what we have to offer today and remember there is only one dumb question and that is "THE ONE YOU DONT ASK" CALUMET MARINE SIMPLY TREATS ITS CUSTOMERS AS WE WOULD WISH TO BE TREATED OURSELVES
new and used boats and motors in stock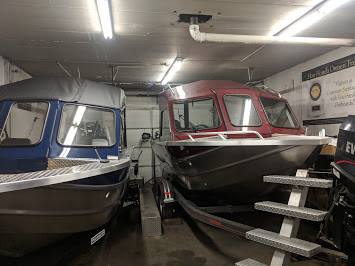 Frank Martin
USCG Captain - 50 Ton Master
Calumet Marine
426 burnham ave.
Calumet City IL, 60409
Phone:(708) 862-2407
Fax:(708)868-8565