Gary and I had the exact same idea - I woke up at 5am and looked at the radar then took a step outside and went right back to a warm dry bed. About 9am Gary texts me that he is heading to Heidecke, which was funny because I was doing the same thing. I arrived at 10:30am and only two trucks in the lot, and they other guy was working on his boat in the launch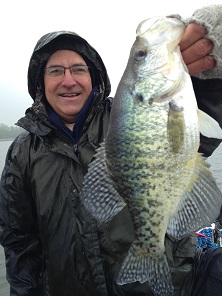 Gary's 14.5" slab
Honestly this is a typical haul when you go with Gary
Like Gary said it was slow work all day. I had 54° on the graph and figured the crank had no chance so pitched ringworms in the shallows. I had a big drum and this nice 20" walleye but that was it for a lot of ground covered.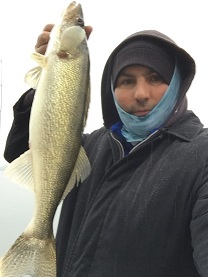 Bite was very slow, barely any fish bothered my "Stier-Death" crawler, maybe 2 yellow bass all day which usually I pull it in because it gets tore up so much. Today I used maybe 4 crawlers all day.
About 1pm I figured I would work my way in and trolled some of the edges of the mud flats/rock bars on the south side. Picked up a bunch of short walleye, I don't think any touched 16" maybe 2 hit 15". On the way home scoped out the river and its already into the parking lot of Stratton Park and the Aux Sable is almost at the bottom of the canal via duct. UGLY.