Took my nephew out for a day of fishing. The plan was to start at Heidecke till 10am then swing over to the river with the goal of catching as many fish as possible.
Got to Heidecke at open and first spot we fished is usually a fish factory but nothing was biting so we moved on instead of making a second pass. It was good idea because we got into fish almost right away at the next spot. First fish was one of many of these buggers.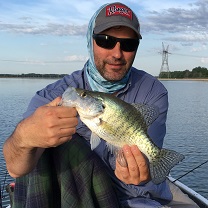 Not long after my Newphew got his first fish of the day which had him pretty excited - he would come to learn about drum..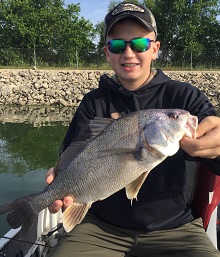 Picked up a nice walleye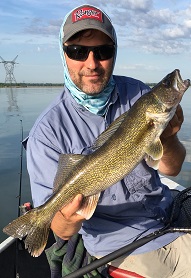 Newphew got a smallie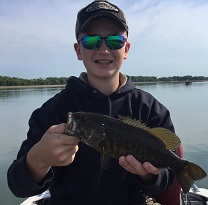 And a striper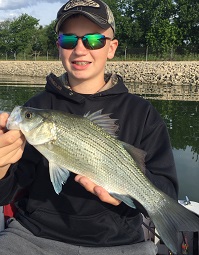 All the fish were mixed in together, no real pattern for a species you just had to be in the right area. We kept making passes and it was steady action, mixed in some top waters and plastics which got fish as well. My nephew got to see a huge smallmouth blow up on a top water and knock it up into the rip rap. The spectacle of the spook spinning up in the air against the backdrop of the rising sun was almost as good as hooking the fish. More boats showed up and the bite got tougher as it will on Heidecke so we changed spots and got into some nice smallmouth top water action, first 3 cast brought 3 fish so we thought we might have something. Troller cut down in front of us tight to shore and trolled the whole stretch we were going to fish so we decided to pull up since it was getting near 10am head for the river for the second half of the day.
Illinois River - Morris
Got to the river around 11am after stopping for snacks and lunch. You will noticed I switched hats, always keep a spare cause you never know when your hat will end up in the water

River was somehow still very dirty, by now it should be clearing up. Lot of wood and debris downstream but got better once we got closer to the dam so maybe they had flushed the wickets the night before in anticipation of rain that was forecasted. Current and level where almost perfect. Started in some spots well down stream of the dam and got some stripers, largemouth, and smallies but many more bumps and swipes than hooks up, almost like they could hear the bait but couldn't see it clear enough to strike. Got this pleasant surprise, one of the darkest saugers I've seen.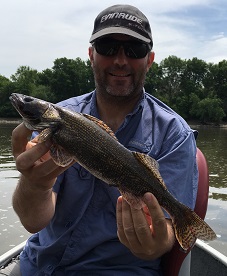 Moved to another spot that had drum and some smallies. My nephew was starting to get "drum".
From there moved up into the raceway of the dam. We got mostly drum, a couple smallies and had a very nice catfish break off. I also caught a buzz..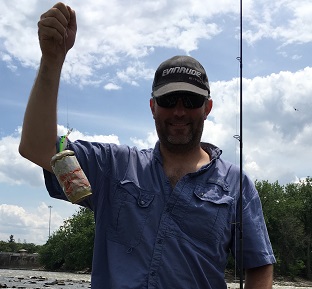 (not until I got home

)
My nephew hooks into a nice fish, "It's fighting like a walleye" - its a drum. Gets another fish "it's fighting like a smallie" - its a drum. Finally my nephew says, "Drum fight like the fish you want to catch, then you see its a drum and its a let down" - pretty much sums up drum.
About 2pm it time to head in. We caught just about every game fish there was minus a few exceptions, but overall great day on the water and look forward to doing it again.