Went up to Antioch to fish the chain saturday night. Drove through what seemed like a tornado to get there. Pitch black, high winds, rain and hail. It was gnarly to go from 75 on the expressway to 25 in less than 10 minutes. Anyway by the time we got to the boat dock, the weather broke and it was calm. Only problem is the temp dropped about 15 degrees.
Plan was to troll crawler harnesses in 4-7 fow at slow speeds for walleye.
5 minutes into the first troll this beauty rocks one of the harnesses.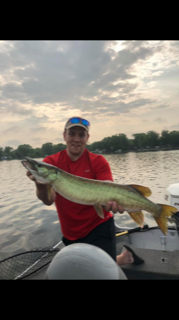 31 inches and fat. So much stronger and fatter than any 31 inch northern I've ever caught.
Catch 3 catfish that absolutely smoke the baits. Almost takes the rod out of the holder.
About 45 minutes later this baby smacks one.
33 inches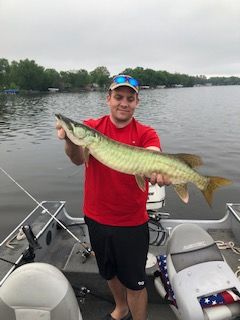 Ended with a few more cats. Only trolled for about 2 hours.
Trolled again the next morning and actually got another musky. This one was 31 inches also. For the muskies, before anyone gets all excited, I kept them in the net in the water, removed hooks, quick pic and release. The third one spazzed on me when I lifted for a pic after removing hooks and she got in the water before the pic.
All in all great time. Only 1 short walleye. Any tips to help with the walleye?