Smokin' Fish - Boat Record - Coho (Over 18 lb's)
The Biggest Coho I've ever caught was on July 4th, 2019.
My wife (fishing partner) and I, were heading out for a scouting trip for the S.U. Club Tournament.
We traveled straight out of North Point Marina (East) until we hit 230' of water, turned the boat on a Southeast troll and I started setting lines.

We had a great day on the water catching Coho & Lake Trout (we tossed all the lake trout back).
The fish were in the top 55' - even though I also caught a few stray fish traveling below 90' (down).
This - "Smokin' Fish" - Boat Record - July 4th - 2019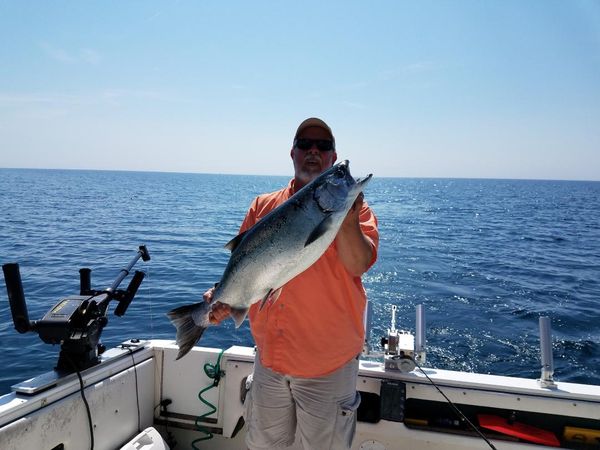 This Coho was caught on a (5) - Color with a Warrior (Fin Girl - standard size) - In 230' of water @ 11:15 am
I have been asked many times what this fish was caught on - I wanted to make sure that the correct information was conveyed.
Here is my prize (fish partner) with our prize catch.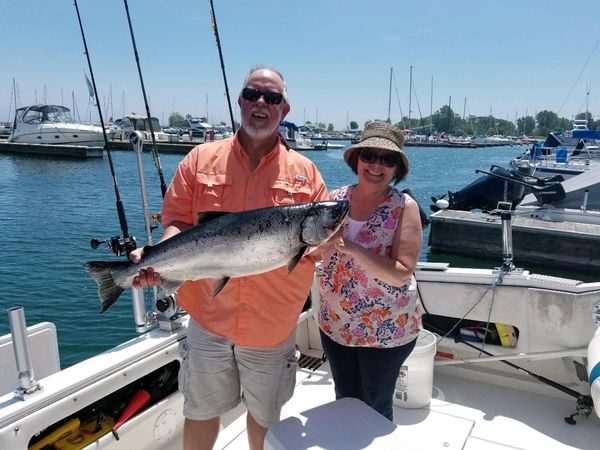 I'm not going to list all the Spoons and Fly's that were used this particular day... Not because I don't want anyone to know what I'm using... It's because I'm using my own Fly's (both smaller size and full size) and inter-mixing in some Warrior, Moonshine & Kranex spoons.
So my fly names would mean nothing to someone else (such as): Yellow Tuxedo, Modified Yellow Tuxedo, Hot Lobster, Modified Carmel Dolphin, Modified Green/Yellow, Steelie Candy and so on... You can get the idea of which spoons I patterned my new fly's after. The new fly's have been fantastic, so far this year.
Now it's time to see how they will perform during Salmon-A-Rama.
So, anyways I hope all are having a great Summer and keep fishing and having fun (I am).

Good Luck to All,