Quote:
I'll take a stab at it, you have a directional unit but his is only doen looking.
Fishing maniac
Close.
The fact that you mentioned "down" shows your on the right track.
It is called the dead zone. All 2D sonar can have a dead zone, depending on bottom terrain. A perfectly flat bottom has no dead zone.
The floor/bottom shown on the graph will be the first sonar cone contact and everything below that contact point maybe covered with bottom thickness on screen, so no fish arches show.
Below is an example of the sonar cones at 200khz and 77khz. Arrows instead of arches.
The tighter the cone angle, the less fish arches are shown but shows an arch directly below transducer.

Notice on the 77khz(outer cone) that first contact is 20 ft and last contact is 40 ft.
The graph shows a 20ft thick bottom.
Draw a horizontal line from the 20ft contact depth and you can see 1 fish arch and all the other arches are below in the dead zone (thick bottom).
Now look at the 200khz(inner cone) and draw a horizontal line form the 25ft contact depth.
Once again only 1 fish arch.
Thinner cone and bottom, but the 2nd arch is the dead zone between 25 and 30ft.
The next pic is the example of the dead zone Jim ran into.
The ice fishing guys use narrow sonar cones, 8-20 degrees as far as I can tell. Jim said the flasher was set to 20 degrees
Sitting right on top of the structure, the first sonar contact was the edge of the structure, creating a false bottom and a small dead zone.
When we compared depths between units, his flasher told him bottom was approx. 1.5-3.0 ft higher than it really was.
I kept telling him to drop the bait further and he said that he was on the bottom already and I kept telling him he was not.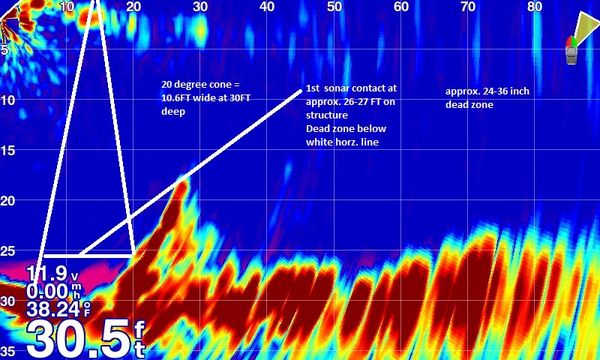 Now watch the first video again and pay attention to the lower left side of the structure, where the fish comes from and smacks his bait.

Panoptics has no dead zone, no matter if it is in Live forwardview or Live downview mode.
Fishinh maniac wins the ice fishing prize, a free 4mm tungsten jig, provided by the Crappie Professor.
Ask him for the one he used in the video.
Good bait.