Well this was my second trip with this great group.....they hit some fantastic fishing hotspots,and this trip was no different....the reports were good but the water level was going to be our only hiccup....turned out to be worse once we got there to see it for ourselves...color wasn't bad but the areas the fish were in were very hard to get a boat into....we took the task of huntin' and we did get on a few hot patterns...the ever changing water level made for interesting hunting...and frustrating at times....more shorties (under 12 inches) were caught than last year...making the "next years" batch of keepers (over 12 inches...lake rules) look very promising....and of course the meals by the clubs resident chef "Mike" had us eating like kings...kinda spoiled us with the big breakfast and dinners of Pork chops,Brisket,homemade Chili to name a few....had a hard time pushing away from the table at times

...the boat was listing to my side all week...???

...we did loose some time on the water to a storm....but spring crappie fishing is usually right in the thick of it....water rose 10-12 inches overnight on Wednesday and rose a few inches as we fished Thursday...lost sight of a ton of productive stick ups and grass edges...but we managed...have a ton of (things to try next year) on our lessons learned talk as we headed home...all in all another great trip with the group and already looking to get back down there to hunt for slabs in the "Arc Of Slabs"
every morning I had my morning Joe with these friendly fellows.....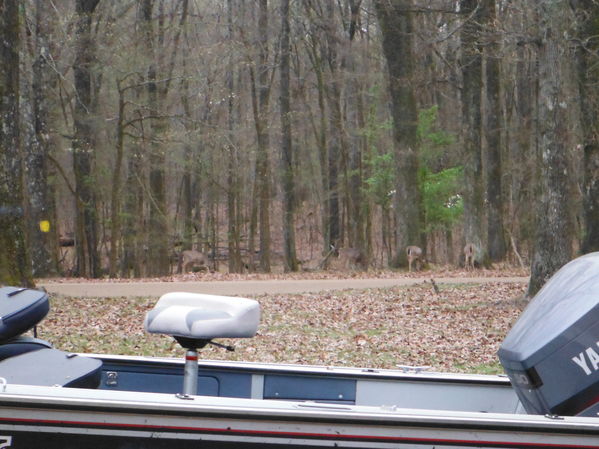 Billy and Mike ready for the Huntin' to start
color to the water ...but not bad as far as southern reservoirs go...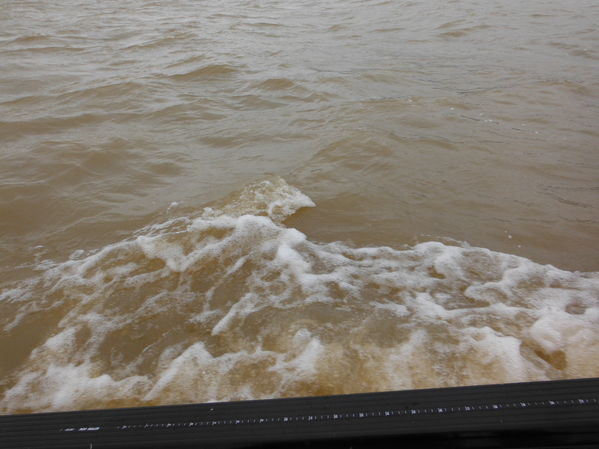 Shallow buck brush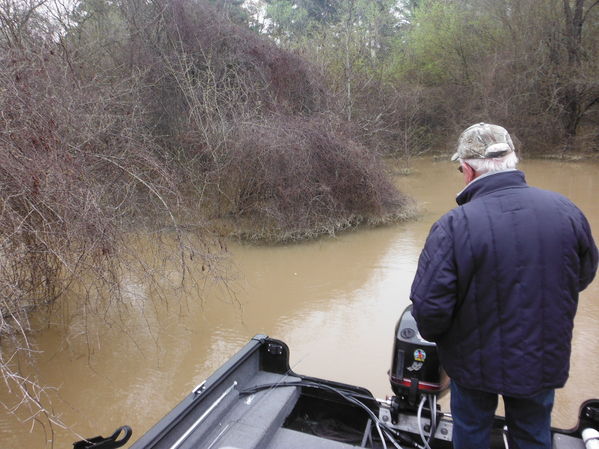 could see the open water closer to the bank ...just couldn't get there by boat...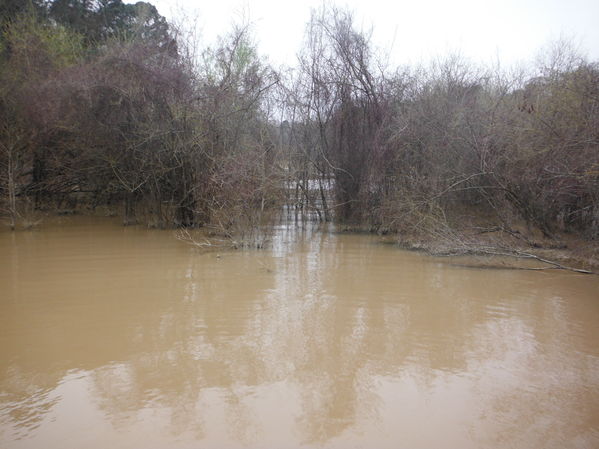 males were getting ready.....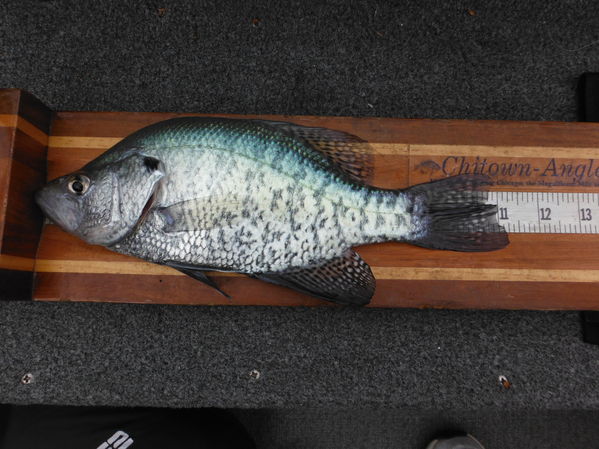 nice size to these scrappy fighters....pull like smallmouth once hooked up...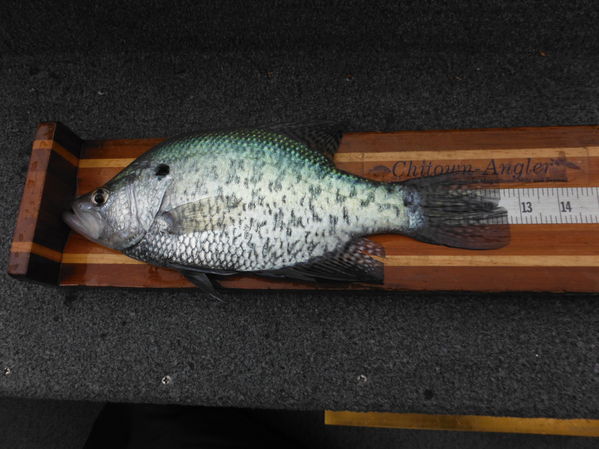 Casey and I found a great pattern of vertically jigging some brush and grass that lined the top edge of a drainage ditch...we probably should have fan casted the flats leading to shore for some shallow bedding fish....hummm things to try next time...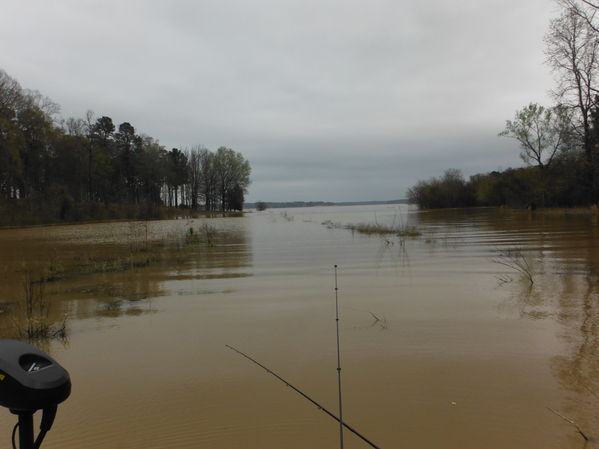 was easier to see the ditch before the rain came and all this stuff was submerged and harder to locate...even tried getting on the old plotting trail but the accuracy of units to get spot on spot wasn't a reality....had to be right next to things and inches were the difference of drop to hit ratios...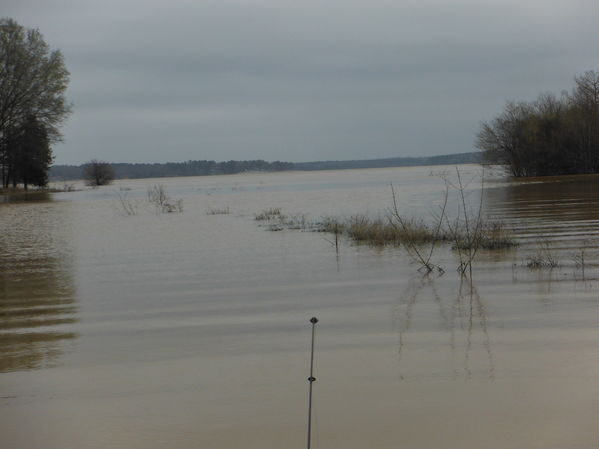 Boat buddy for the trip Casey from Kentucky with a few keepers...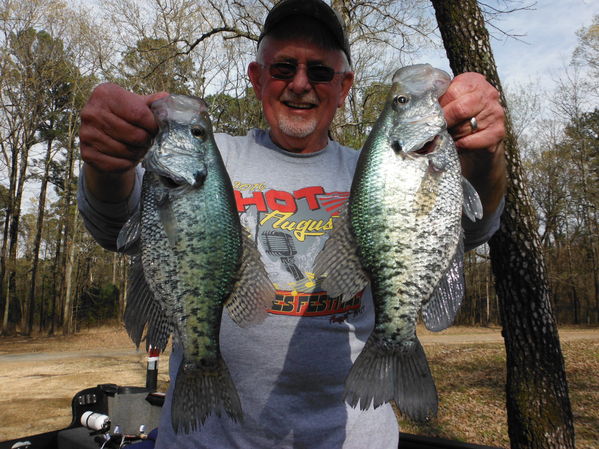 Master chef Mike and brother Billy were on a hot bite pitching and jigging trees.... lot's of snakes in the trees he said....

..not sure if he was saying that to keep the group from fishing near his hot spot or not....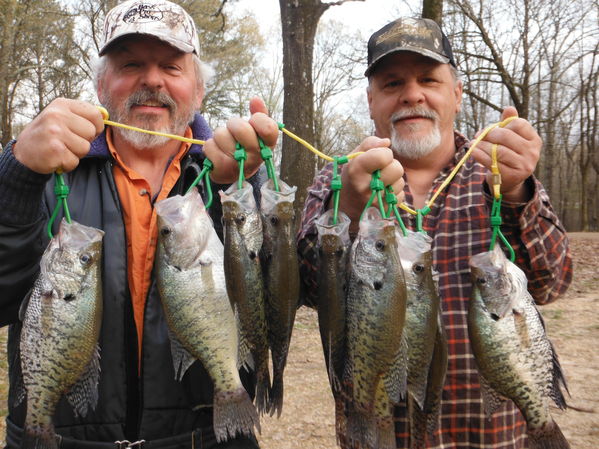 another shorty....maybe you'll make the cut next year....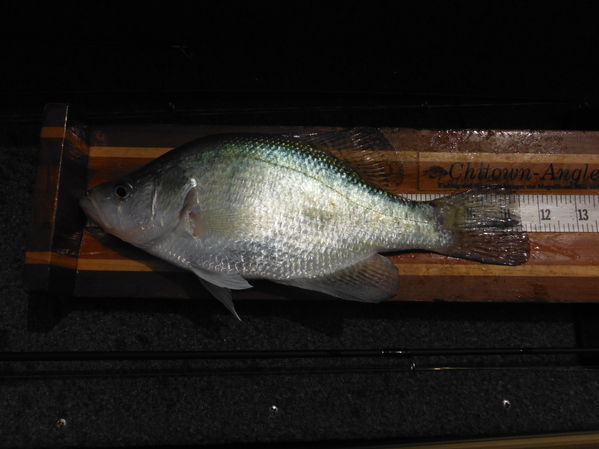 Lot's of snags...bring a good supply of jig's....gotta be in it to win it....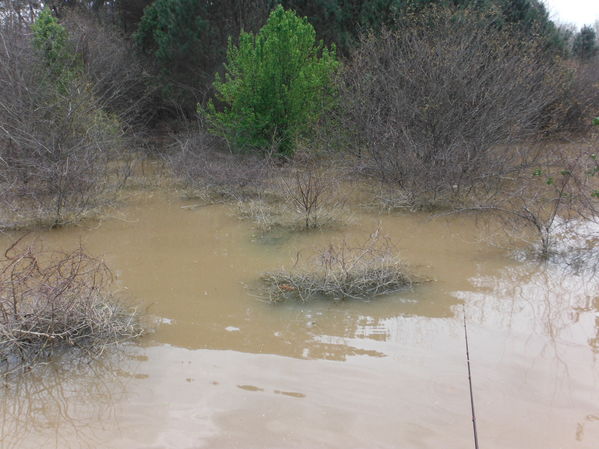 water level was dropping before the rain...and the catch rate was on the up swing....bottom dropped out as the rain came....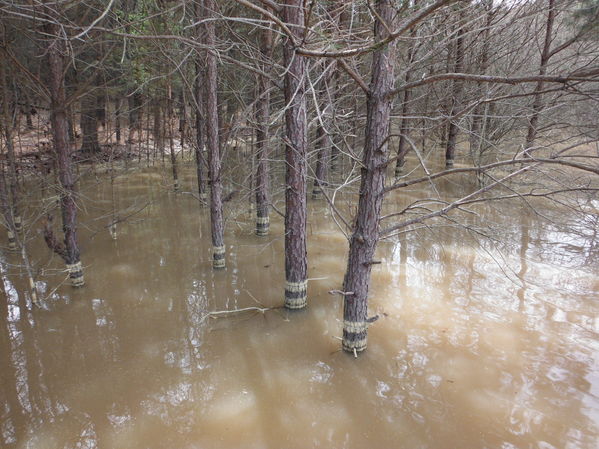 found some old paths/roads....intersected with a ditch and bingo fish....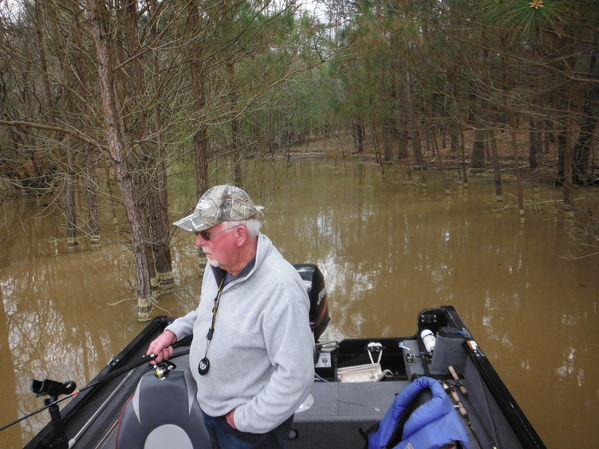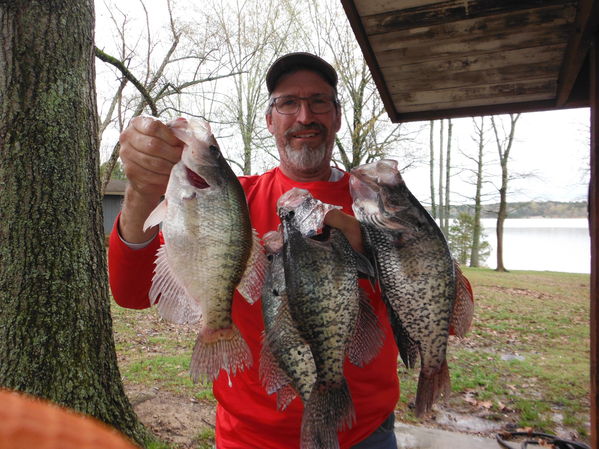 Grass on the lip of the ditch was key before the rain rose the lake...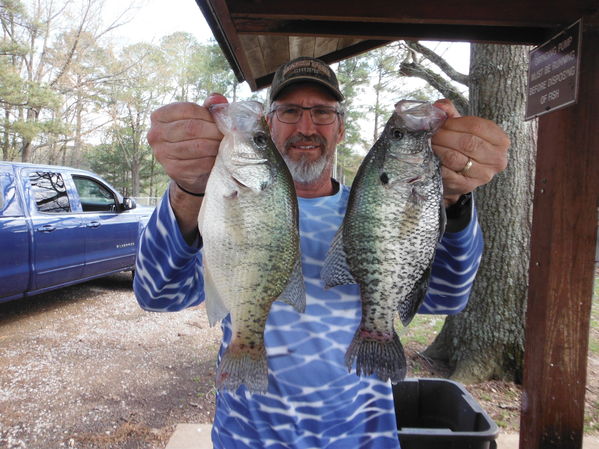 waiting on the rain to quit....temps dropped and level rose....double wammy....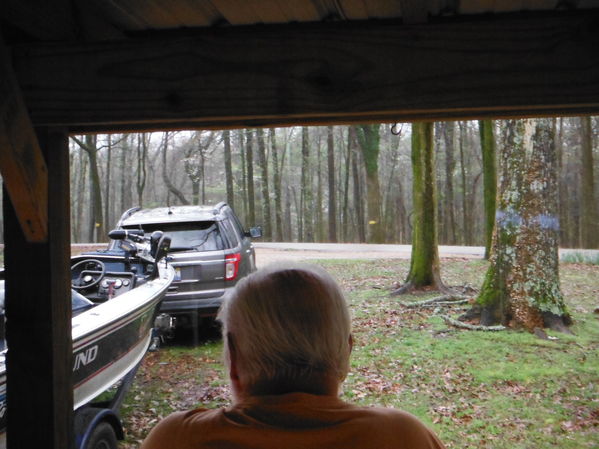 we could see these guy's in the water behind the tree's....they had it all to themselves...just can't get there from here...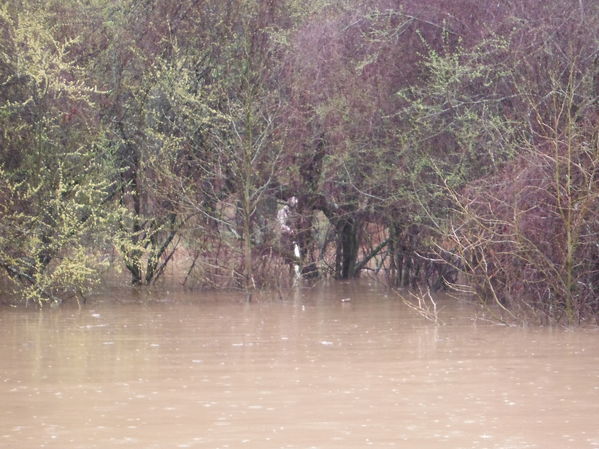 found a few of these that held fish...edges were important...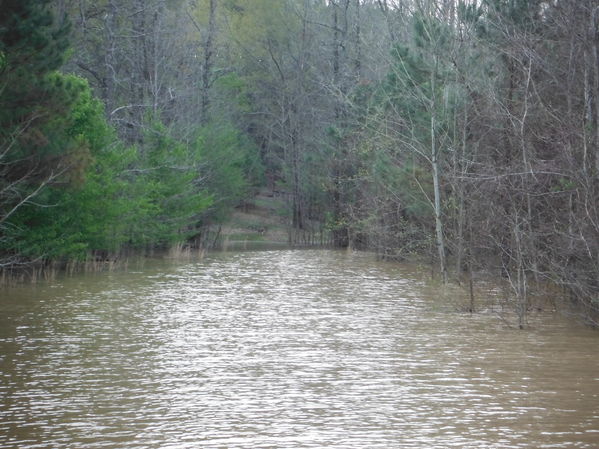 have a few more pic's to share...but the site may time out before I finish...don't want to lose this post...enjoy....