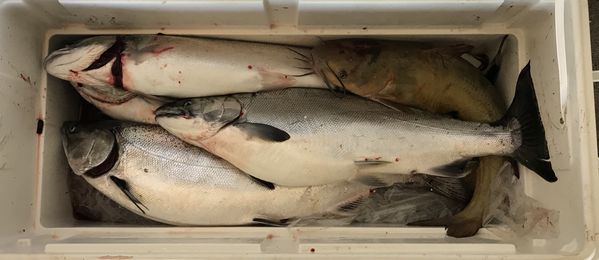 Fished the late morning-early afternoon bite between the 1st and 4th hills off Kenosha today. Never really left 100 FOW for any real amount of time. Lines in at 0930 and out at 1430. Went 15 for 18 with a bonus cat. Had the best luck in the dirty water in the above mentioned area. Ran into a nursery school of shakers at one point. Threw 5 back and kept some due to the dragging rigor that was cast upon them. Got to check them lines often. Downriggers were boss today. Here is what fooled 'em:
350 Copper with moonshine pox spoon - king and Steelhead
SWR down 50 with hey babe spoon - 2 coho
Blinkie paddle with green Howie crinkle fly on a Dr down 85 - 2 kings/4 coho
SeaQuest Lunchtime spoon down 75 on the rigger - 2 king
10 core - super shadow spoon - catfish
250 Copper with watermelon spoon - coho
Wire diver 3/175 - frog spin dr/pickled sunshine fly - coho
Dirty water and darker spoons were key for us today. Speed was anywhere from 3.1 to 2.4 at the ball. Surface temp was 70. Down 60 52/56. Bigger Kings were caught near the bottom. Marked a ton of bait in the area.